Here're interesting facts, information and all about Celebrity Solstice cruise ship you need to know.
History
"Celebrity" cruise line was formed back in 1988 by a company called Chandris Group based in Greece. Currently, the ship is being operated under the Royal Caribbean Cruises Ltd. The said company also operates some major cruise lines in different countries. The headquarters of the company is located in Miami. They have carved the letter "X" on the body of the cruise. This symbolizes the term "Chandris" which is referred to the letter 'chi' in Greek. All these celebrity cruises share some common features and amenities. They include state of the art dining facilities, large pools, state of the art spas and lounges.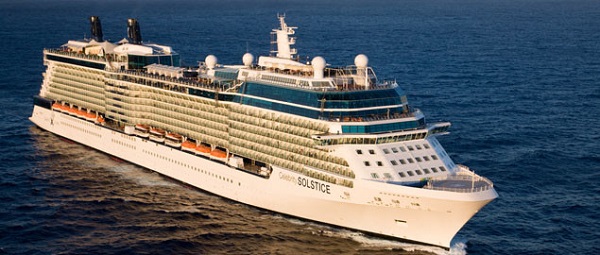 Facts
First ship belonging to the Solstice-class celebrity cruise ships.
Launched in the year 2008.
Stands along with its family cruise line such as Reflection, Eclipse, Equinox, and Silhouette. All come under the same Celebrity brand name.
This ship could carry over 2800 passengers at once.
The ship weighs over 121,878 tons.
Ship includes all the personal amenities that a traveler expects from a luxury ship.
Wi-Fi connectivity throughout the ship.
Large staterooms with HD televisions.
Fairly bigger bathrooms.
Fine bedding to assure comfortable sleep.
Large deck space with a plenty of entertainment options.
Exterior Design
Celebrity Solstice carries a unique shape and the exterior look is quite amazing too. The cruise ship looks totally different from the previous Celebrity Cruise Line ships. Martin Francis was the man behind providing this astonishing exterior look to her. The original exterior plan expected the hull to be all-white. The upper decks were in powder blue colored funnels and blue glasses. Later on, a color change took place recently. After the change, the light blue has been replaced by the Celebrity's trademark dark blue color. The current astonishing look has been achieved after a lot of experimentation. There were lots of trials on different color combinations. The trademark X was to be designed in glasses, but due to visibility issues, they decided to give it a darker shade. It was still not visible to some parts but was better than the transparent glass X.
Amenities
Celebrity Solstice offers their passengers a wide range of stateroom categories.
The ship includes the all new "Aqua" class and their signature Concierge Class onboard with a touch of perfection and elegance.
The cruise ship carries an amazing theater which could accommodate over 1400 viewers.
The passengers can enjoy meals in a wide range of restaurant options during the cruise.
Relax at the super cool deck with a view of the amazing ocean.
Chill at one of their bars or clubs and feel the difference between traveling and cruising.
Experience the class and the uniqueness of the iLounge which added to the cruise in 2010.
Age is just a number when you are aboard.
They have a range of entertainment packages to cater every category of the population including the kids, youth, and the elders.
Join the never ending fun at Celebrity Solstice.
The Interesting Itinerary Program
They have a pretty interesting itinerary program where they cruise from Alaska to Seattle on a 7-day round trip during peak season. They take a different route when it's not the summer. Off-seasons, they sail within the Southern parts of the Pacific Ocean. They tour New-Zealand and Australia starting off from Sydney and Auckland. The ship also sails to Hawaii islands during the repositioning crossing between Australia and Alaska.
State-of-the-Art Cabins
This massive cruise carries 1145 staterooms. These include a beautiful balcony area providing a super view of the ocean. They have 1426 deluxe state rooms in total belonging to 28 different categories. Cruise also includes a wheelchair entrance and is great for disabled people. They also have a set of massive Penthouse suites right on top of the deck. The square footage of each penthouse is 1290 feet square.
Dive in the Dining Options
Apart from the Cruise's prime dining location, the cruise has three unique-themed restaurants. These restaurants provide 24 hours service to the passengers aboard. Each restaurant has specifically been allocated for the guests staying the category Aqua. The range of dining hotspots includes a crepe corner, a buffet and grill station. You can enjoy a heavy Indian cuisine, a lido buffet with specialty stations. All this with a massive poolside restaurant, and a chilled out coffee bar providing a breathtaking view of the oceans.
Among all the restaurants they have set, 6 will be open during breakfast time, 5 during lunch time and 7 will be open during dinner. The ship's main restaurant which is known as the "Grand Epernay". It extends up to two decks and it could accommodate more than 1400 guests at once. Designers have used lighter and bright shades along with glasses to give an astonishing outer look to the restaurants.
1. Murano for a Fine French Meal
Murano is Celebrity's specialist French restaurant and it could accommodate up to 76 guests at once. They run a reservation only policy for the restaurant. They have managed to include a unique food and beverage menu which carry some of the greatest French dishes. The restaurant also features a live cooking show upon request. The unique High Tea session is something that you must definitely try when dining at this wonderful restaurant.
2. The Grand Restaurant
This is Celebrity Solstice's main restaurant with a seating capacity of 1500 guests. They arrange breakfast sessions during the morning hours starting from 8 AM. Lunch session starting from 1 PM, evening tea session from 4.00 PM everyday. Dual timed dinner settings running during 6 p.m. onwards. You also have the option to have dinner on a preferred time upon request.
3. The Bistro
This is a must try if you are a passenger aboard. This wonderful 68-seat restaurant provides you creperie and all you have to do is to eat all day long. They only serve the meals for lunch & dinner and it should be noted that it is a restaurant with self-service.
4. Blue, Limited Yet Mouthwatering
This is the dedicated restaurant for the Aqua Class passengers. It could accommodate up to 32 guests at once. They can also serve the guests lodging in the exclusive suit category upon request. This is the ideal restaurant to enjoy a sense of calmness and relaxation. But this is only available if you are an Aqua Class passenger.
5. Variety Everywhere
Their ultimate intention is to satisfy the taste buds of every single guest. Silk Harvest is an Asian specialty restaurant with amazing Sushi bar loved by a big majority of Asians. They also have a specialty seafood restaurant known as the "Tuscan Grille". It could accommodate up to 132 guests at once. It is also considered to be a steakhouse restaurant which is being operated on a reservation only basis. If you prefer a healthy meal to accompany your diet plan, then the AquaSpa Café would be the ideal stop for you. It is a Solarium and Spa bar with a seating capacity of 48. This restaurant is also being run on a reservation only basis.
Entertainment for Everyone
Celebrity has their own enrichment program known as "Celebrity life". These programs are being offered throughout the day. These activities have been shortlisted under 4 categories.
i) Enrichment,
ii) Wellness,
iii) Trivia games and
iv) Culinary.
The culinary related activities include some interesting programs. They include a well-organized gallery tour, a demonstration on cocktail making and cooking. Celebrity Solstice wants to entertain everyone equally. The Aqua Class guests' onboard have access to Persian Garden and the state of the art steam room. They can also experience fine dining at the "Blue" restaurant which is a great place to enjoy a sense of relief and calmness.
Amazing Atmosphere with a Sense of Quality Entertainment
Celebrity Solstice is the ideal place to be if you are looking for maximum entertainment. The Solstice Theatre is an amazing entertainment venue. It can accommodate up to 1115 guests. Mainly it is used for music projects, concerts, and show productions. The The Theatre also hosts movies, trivia games, various classes, and bingo games on a daily basis.
The Legendary "Grand Foyer"
This is the prime atrium of celebrity solstice. It is a massive open air arena with spread to the height of 3 decks. This space has been utilized to the maximum. and They host live musical shown in this place on a daily basis when they are sailing across oceans. It also includes a set of Boulevard Shops which includes 7 duty exempted shops and various other boutique stores. The Galleria Boutiques run ten duty exempted shops and the guests could shop all day long. The shops on the deck provide a unique shopping experience to the guests with an amazing atmosphere.
State of the Art Fitness Center
How fun would it be to engage in a fitness session in the middle of the sea? Celebrity Solstice helps you make it a reality with their fitness center. They have allocated a separate area for aerobics which is great news for fitness loving women. Dedicate some time out of your busy cruise schedule to hit the fitness center and enjoy your workout on the go.
Conclusion: Facts and All Information About Celebrity Solstice Cruise Ship
Perfect Definition of Perfection
Celebrity Solstice defines modern luxury in the best possible way. They have assured that every inch and every corner of the vessel is built to perfection. Their space for modern luxury flows from the oversized cushions placed on the pool deck. Further it goes to state of the art lounges and hygienically rolled hand towels placed within the public bathrooms. Entertainment is in every corner of this amazing cruise. Their ultimate objective is to satisfy everyone in every possible way. Entertainment activities include massive production projects and small shows based on guitar and vocal play. The friendly staff they have employed will make the guests want to visit this cruise again and again. They never deliver below the expectations of their valued guests. The service exceeds the customer expectations all the time.