Are you looking for a unique job opportunity that brings with it the chance to travel and explore new places? Are you passionate about service and customer satisfaction? Then a Housekeeping job aboard a Cruise Ship could be just the perfect profession for you!
Aside from learning essential hospitality skills, cruise ship housekeeping jobs are rewarding, secure roles with great remuneration packages.
So if this piques your interest then read on to learn more about what is needed in order to land one of these exciting roles – we'll cover everything from typical duties and responsibilities through to salary expectations and requirements.
What is a cruise ship house keeper? (job description)
A cruise ship housekeeper is responsible for keeping the guests' cabins clean and organized during their stay on the ship. They perform a wide range of duties, including changing bed linens, vacuuming, mopping, and dusting.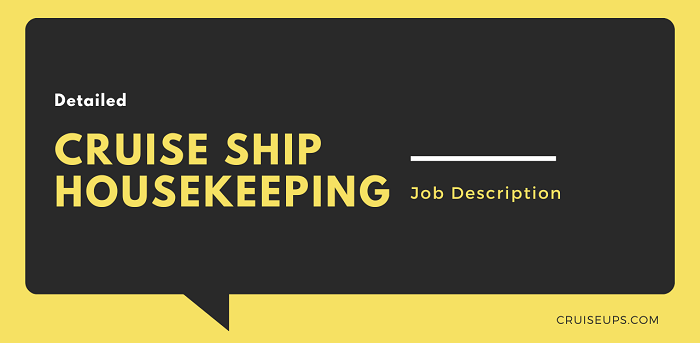 Additionally, the housekeeping staff is responsible for restocking amenities such as towels, toiletries, and tissue paper. They work diligently to ensure that every guest has a comfortable and enjoyable experience while onboard.
The job of housekeeper is no easy feat, as they are required to maintain the utmost level of cleanliness within an extremely tight schedule. However, their hard work and dedication ensure that every guest feels right at home during their journey at sea. With all that, the role also brings benefits and perks for the staff as well.
List of duties and responsibilities
Cleaning the cabins
From ensuring the cabins are cleaned to perfection to restocking the toiletries, this job requires a keen eye for detail and an efficient work ethic. Passengers expect their cabins to be clean and tidy throughout their stay, which is why housekeepers play a key role in maintaining customer satisfaction. Not only is it important to clean all areas of the cabin, but also to ensure all lost and found items are returned to their rightful owners.
Keeping the ship clean
From the cabins to the public areas, every surface needs to be thoroughly cleaned, sanitized, and tidied up each and every day.
Housekeepers work tirelessly, sweeping, mopping floors, wiping down tables and dusting surfaces to make sure that the ship's public areas are spotless.
Thorough cleaning not only improves the visual appeal of the ship, but also plays a vital role in safeguarding the well-being and safety of passengers and crew members.
Laundry
Ship housekeepers would ensure that everything from bed sheets to towels is fresh and clean is a crucial aspect of maintaining a comfortable and enjoyable atmosphere for guests. They must also adhere to strict guidelines on handling and processing laundry in order to maintain cleanliness and prevent any cross-contamination.
Ironing
By ironing their clothing to perfection, the housekeeping staff contributes greatly to the overall satisfaction of the guests aboard the ship.
Delivering items to cabins
The housekeeping crew is also responsible for delivering items to cabins, such as towels, soap, comb, shaving apparatus, and shampoo. They may also deliver food and drinks to passengers who have ordered room service.
Stocking supplies
From cleaning supplies to linens and everything in between, you play a critical role in keeping the ship running smoothly. By taking the time to carefully monitor inventory levels and restock supplies as needed, you help to ensure that guests have everything they need to enjoy their stay on board.
Inspecting cabins
The housekeeping crew is responsible for inspecting cabins to ensure that they are clean and free of debris before new passengers arrive.
Making sure the guests have what they need
Additionally, the crew is responsible for replenishing minibars and coffee stations, and they may be required to provide room service to guests onboard.
Housekeeping closets
One of the essential responsibilities is managing the housekeeping closets situated on every floor. These cupboards are the lifeline of a cruise ship housekeeper, containing everything from replacement linens to cleaning supplies to spare uniforms. Keeping them organized and fully stocked is a demanding job, but one that is critical to ensuring the smooth running of a cruise ship.
Training new members of the crew
This includes showing them how to perform their duties and teaching them about the ship's policies and procedures. The training process can take several weeks or even months, depending on the size of the new member's training class.
Maintaining equipment
Ensure that all equipment on board is well-maintained. From vacuum cleaners to washing machines, it's essential to keep all gear in top shape, so the ship runs smoothly, and guests enjoy the best possible experience. While it may seem like a daunting task, regular maintenance checks and cleaning regimes are key to keeping machines operating efficiently.
How to apply for a cruise ship housekeeping job?
Here is a step-by-step process: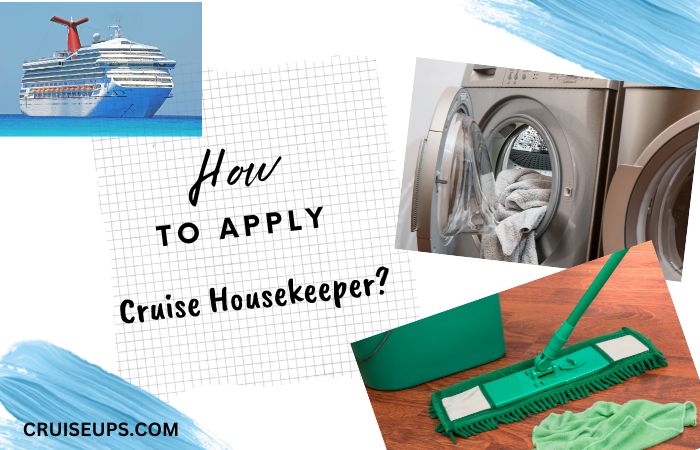 Research cruise lines: Begin by researching different cruise lines to identify which ones are currently hiring for housekeeping positions. You can visit the websites of major cruise lines, review job boards and listings, and read reviews from current and former employees.
Review job requirements: Once you've identified a cruise line that interests you, review the job requirements for the housekeeping position. This will typically include details about the skills, personality measures, experience required, as well as any physical demands of the job.
Prepare your resume and cover letter: Tailor your resume and cover letter to emphasize your relevant skills and experience, such as previous hospitality or housekeeping work. Be sure to highlight any relevant certifications, or training you have received.
Submit your application: Apply for the position through the cruise's website or through a job board. Make sure to follow all instructions provided in the job listing carefully. Some cruise lines may require additional documents or information, such as references or copies of certifications.
Complete an interview: If your application is shortlisted, you may be asked to complete an interview, which could be conducted over the phone, via video conference or physically, if the recruiting company is nearby your residing location. Be prepared to answer questions about your experience and qualifications for the job.
Pass a background check and medical exam: Before being offered a job on a cruise ship, you will typically need to pass a background check, police verification and a medical exam. This is to ensure that you meet the requirements for working on a ship and are physically able to perform the duties of the job.
Attend training: Once hired, you will be required to attend training before beginning your job. This could involve several weeks of training on land, followed by onboard training once your ship departs.
Start your new job: Finally congratulations, once you've completed all necessary training, you'll be ready to start your new job as a housekeeping crew on a sea ship. Be prepared for an exciting and unique work environment, with the opportunity to travel and meet new people from around the globe.
Important read: Is it hard to work on a cruise ship?
Salary: How much does a cruise ship housekeeper make?
Have you ever wondered what the average salary is for cruise ship housekeeping staff?
Across the world, salaries can vary greatly depending on location and other factors.
In the United States, a cruise ship housekeeper can expect to earn an average of $2,500 per month or $30,000 per year.
United Kingdom: the average monthly salary is around £1,400, which equates to approximately $1,819 US dollars.
Canada: monthly salary is around 3,700 CAD.
Ireland: average monthly salary is around €1,900 and a yearly salary of €22,800.
Austria: monthly average salary is around €1,500, with yearly earnings averaging at approximately €18,000.
Australia: a monthly average is around $2,250-$2,700 and a yearly salary of around $27,000-$32,400.
New Zealand: per month avg is $2,700 whereas many professionals earning upwards of $35,000 per year.
Malaysia: monthly average can range from RM1,200 to RM2,500 while the yearly average salary can go from RM14,400 to RM30,000.
Indonesia: monthly salary is IDR 4,000,000 and an average yearly salary is IDR 48,000,000.
Thailand: approximately 15,000 to 30,000 baht per month whereas 180,000 to 360,000 baht per annum.
UAE: average monthly salary is around AED 3,500 to AED 4,500, depending on experience and qualifications. Overall, the yearly average salary for a cruise ship housekeeper in the UAE can range from AED 42,000 to AED 54,000.
Mexico: According to industry data, the average monthly salary for a cruise ship housekeeper in Mexico is around $1,100 USD, with the possibility of earning up to $15,000 USD annually with bonuses and other incentives.
Brazil: around 2,744 BRL per month on average, which adds up to roughly 32,928 BRL per year.
South Africa: Moving further afield, the average monthly salary in South Africa is around 8,000 ZAR, while in India it is around 20,000 INR.
Of course, these figures are just averages, and factors such as experience and job type can also play a role in determining a cruise ship housekeeper's salary.
You may like: Cruise Ship Waiter Salary
Job requirements
Specific job requirements in this regard may vary between cruise lines. Most often, housekeepers must be able to clean guest cabins efficiently and effectively within a certain time frame. They must also be prepared to work long hours and be physically fit enough to lift and carry heavy objects like vacuum cleaners and laundry bags.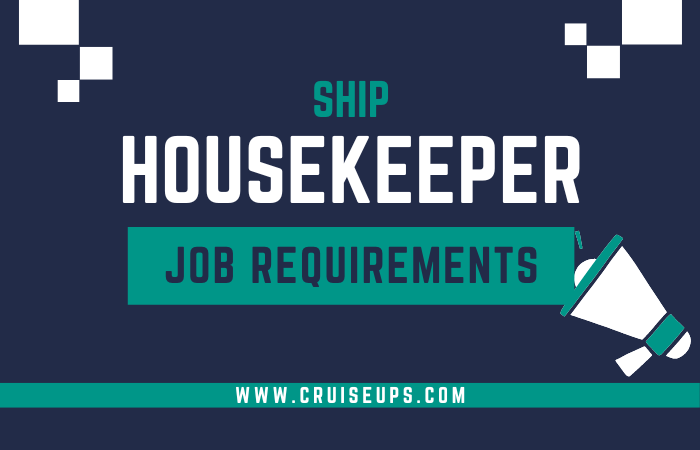 Good communication skills are essential, as housekeepers often communicate with guests directly in order to keep track of their cleaning requests and schedules.
Prior housekeeping experience is preferred, and a thorough background check may also be required for this position.
If you can meet these requirements, a cruise ship housekeeping job can be an exciting opportunity to travel the world while earning a paycheck.
To start your housekeeping career, consider the following requirements:
1. You need to be at least 21 years old.
2. A high school diploma or its equivalent is necessary.
3. Physical strength is important; you should be able to lift up to 50 pounds.
4. The role requires standing for extended periods.
5. Our work environment is fast-paced, so adaptability is crucial.
6. Availability on weekends and holidays is a must.
7. Don't forget, a valid passport is required.
See also: Cruise Ship Entertainer Job Description
Interview questions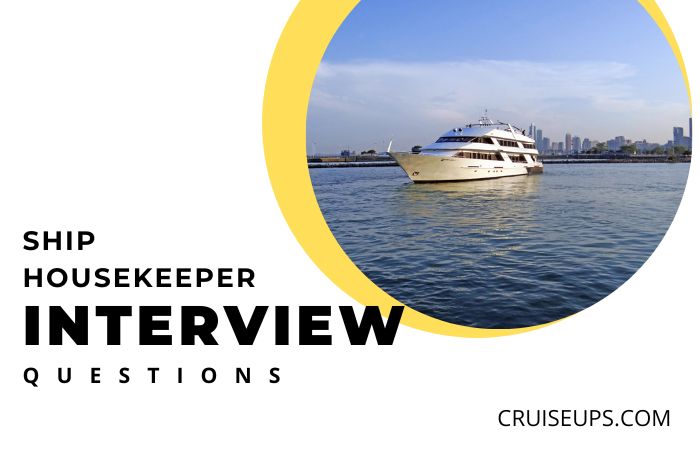 If you're applying for a housekeeping position on a cruise ship, it is crucial to prepare for the interview stage. Some common interview questions go as follows:
What experience do you have working as a housekeeper?
What duties did you perform in your previous role?
How do you handle difficult guests or situations?
Your ability to work in a fast-paced, dynamic environment?
What is your experience for cleaning and maintaining guest rooms?
Do you have any experience working with chemicals?
What is your experience with laundry?
Are you comfortable working long hours?
What is your availability like?
Would you be willing to work overtime if needed?
Do you have any questions for us?
Interviewers may also ask about your attention to detail, time management skills, and physical stamina, as housekeeping jobs on a cruise ship can be physically demanding. It's a good idea to practice answering these types of interview questions beforehand, and to come prepared with examples of your past experiences and successes in housekeeping roles.
Demonstrating a positive attitude, strong work ethic, and willingness to adapt to new challenges can also help set you apart as a strong candidate for the job.
Where to find cruise ship housekeeping jobs?
Following are some prominent job portals (country-wise) where you can spot hiring opportunities as a ship housekeeper:
USA:
UK:
https://uk.indeed.com/q-cruise-cleaning-services-jobs.html
Australia:
https://au.indeed.com/Cruise-Ship-,-Housekeeping-jobs
Canada:
https://ca.indeed.com/jobs?q=Cruise+Ship%2C+Housekeeping
Indonesia:
https://ebu.co.id/job/cruise/
New Zealand:
https://www.allcruisejobs.com/i34171/disney-cruise-line-seeking-australian-new-zealand-us-and-canadian-youth-activities-counselors/
Malaysia:
https://cruise.jobs/recruitment-agents/malaysia/694/application/
India:
https://in.indeed.com/q-housekeeping-,-cruise-ship-jobs.html
Japan:
https://www.allcruisejobs.com/search/japanese/
UAE:
https://ae.indeed.com/jobs?q=Housekeeping%2C+Cruise+Ship&vjk=33c4d2224ceafa40
South Africa:
https://za.indeed.com/q-cruise-jobs.html
Zimbabwe:
https://www.linkedin.com/in/nyengeterai-makozi-0a3493246/?originalSubdomain=zw
Continue exploring