Searching for a dream cruise job in Canada? Though there might be numerous cruise vacancies available before you, finding the high paying job with amazing fringe benefits and gravy-train type perks should be your foremost priority.
To help you in this regard, we bring you an insight into the top 5 places where you can find a sea ship job while being in Canada. These platforms are considered best for they connect employers with potential candidates, have jobs starting from entry-level freshers to experts, and serve as a trusted job-seeking platform for both foreign and national applicants.
Top 5 Portals to Find Canada Cruise Ship Jobs
1) Indeed
Indeed is the world's most trafficked job search engine. It serves several worldwide nations, with ca.indeed.com used for searching jobs in Canada specifically.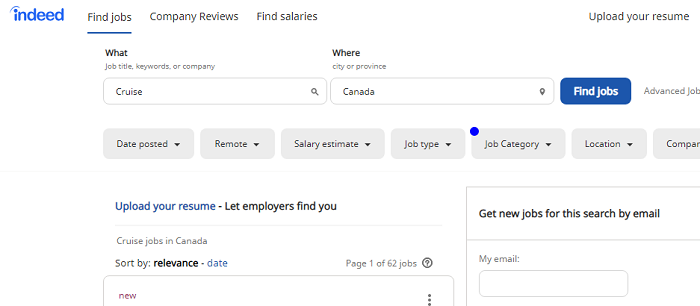 This job portal contains a large number of fresh listings from Canada's top-verified cruise ship agencies hiring employees from all nationalities, entry-level from fresher to advanced, and lifestyles from internship to part-time to full-time. Candidates can filter their job type by location pay scale, date posted, and level of experience.
Why Indeed?
It is currently the world's biggest job website, boasting 250 million+ monthly visitors and the addition of 10+ new job listings every second. Because of its scale, the number of sectors and lifestyles catered to, and its unrivaled upgrade frequency, we choose Indeed as the best overall job search engine. For work seekers, Indeed is 100% free and requires no account. Its interface is extremely intuitive and designed to speed up the career quest.
2) Cruise.Jobs
A genuine leader in the procurement of cruise ship employment, Cruise.Jobs connects young talent and companies. Tens of new listings are posted and hundreds of career quest queries are entered on Cruise.Jobs every minute, every single day. We selected this platform as the runner-up because, while it is superior to others in efficiency, targeted relevancy, accessibility, it has fewer job hunt options and not as many opportunities.

The platform contains extensive details shared by employers who intend to find candidates who are a great match for their vacancies regarding different cruise positions in Canada. The platform is free to use, and job applicants can explore the many exciting possibilities for a bright future ahead.
Why Cruise.Jobs?
Cruise.Jobs serves as a dedicated platform for finding everything cruise jobs. It uses advanced technologies, providing a higher quality index and improved browsing experience for job searchers. While several famous sites refuse to take down obsolete or non-vacant postings, Cruise.Jobs adds new job listings to its website within the same hour that they are first posted, making it the perfect option for those who are looking to be the first to apply for a newly listed cruise line job in Canada.
3). LinkedIn
LinkedIn functions as an online career directory, a digital resume forum, and an all-in-one social networking tool. Unlike most other job search engines, LinkedIn helps you to establish connections with recruiters and other people of interest in the social media sphere – making it the perfect place to communicate directly with recruiters.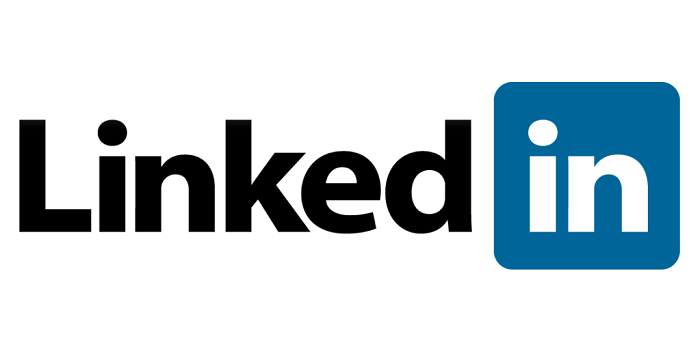 Your LinkedIn profile acts as a public digital resume and portfolio that is submitted to recruiters after you have applied for a job, so it is important to devote time and resources to ensure that the profile looks extensive, professional, and streamlined. If your profile is well-optimized for top page search rank, renowned Canadian cruise ship agencies will directly approach you for a relevant job position.
Why LinkedIn?
LinkedIn is ideal for finding Canada cruise ship jobs as it helps candidates establish direct communication with recruiters. It's a perfect platform for landing jobs, free of charge. You can develop a customized, resume-like profile that emphasizes your job experience and diverse talent, and submit requests to top agencies.
4). Neuvoo
Neuvoo includes a specific collection of features that allow you to browse and search for cruise jobs Canada work listings by skill set, organization, and place. A free account provides you with opportunities to submit your CV and monitor your work records.
Neuvoo lets you browse open possibilities and submit to any related listings. Its advanced software takes your profile details and serves as a matchmaking service between your skills and the cruise ship company to which you have applied to.
Why Neuvoo?
Thanks to Neuvoo's scam-free, ad-free platforms, work-seekers appreciate their precious time and resources saved. Employment hunters can also visit the profile of each organization and read extensive feedback on the experiences of employees and interviewees, which can be a game-changer for your interview preparation.
5). Jooble
Jooble is one of the popular places for cruise ship employment and associated information (i.e. eligibility, benefits, wages) in Canada. It has a deep pool of search filters and, in recent years, has undergone a substantial update to its features and ease of use, making it even more competitive with other job sites.
The platform is constantly updated and includes cruise ship job openings that may have been overlooked on other job sites. You can also apply for jobs directly through the web, helping you to streamline the whole process of a job application.
Why Jooble?
Jooble, one of the leading Canadian career pages for cruise workers, helps you to browse for open positions with filters such as type of job, location, and employer in mind. You can also submit your CV and make detailed feedback notification requests about those job opportunities.
If you want to read more about future occupations that would suit you, the platform is also packed with helpful information on different cruise-related employments, as well as insights into the governmental and private companies that provide them, helping you get more prepared for the next major interview.
Conclusion:
While possibilities can be uncovered through word of mouth or social media sites, extending the search through as many channels as possible is never a bad idea. You don't ever know where the next chance will come from. These aforementioned best places to find cruise jobs – centralize thousands of opportunities and will expose you to cruise jobs and employers that you would not have known of otherwise!