Want to explore the world, get paid for the same and also save a decent sum of money from your earnings? Just get a job on a cruise ship!  However, a cruise-ship job isn't all about fun and big money. You should be ready to toil hard to enjoy the luxuries that the job offers you. You should be ready to put in around 10 to 12 hours consistently even on weekends. That's the price you pay for a handsome salary!
This is probably one of the few places where you could get a good job even if you don't have any prior experience. Entry-level jobs are available for people who have just passed out of school as well. Thanks to the penetration of the internet, it is now easy to find cruise ship jobs in any location that you want. Here, let us see some places where you can look for cruise ship jobs in Malaysia.
1. My.Jora.com

This is one of the first places that you have to visit while looking for cruise ship jobs in Malaysia. The best part of this portal is that it is very user-friendly and allows you to narrow down your choices as much as possible. You can filter by the job posting date, which allows you to look at the most recently posted jobs from different cruise liners. Also, you can filter by the type of job you want (permanent, part-time, contract, etc.) Each job has the job description and requirement neatly specified here, which makes it easy for you to apply for the same.
2. JobStreet.com.my
If you are looking for a portal with detailed job descriptions of cruise ship jobs in Malaysia, this portal is the right choice for you. Here, you can filter the jobs based on specializations and position levels as well. This will help you look for jobs that are on par with your qualifications and experience. It is very important that you read the job description of these jobs very carefully before applying for them, as it will help you understand what exactly the cruise liners look from their prospective employees.
3. Cruise.jobs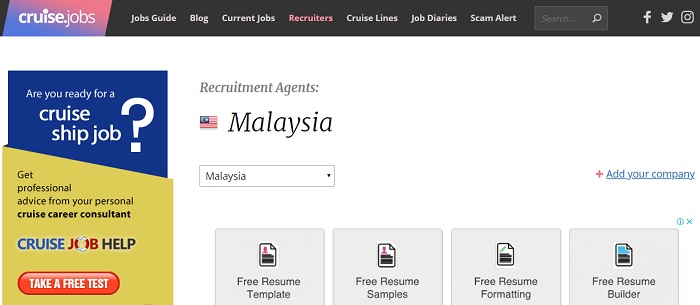 This is a portal that contains a list of the important recruitment agents in Malaysia that will help you get cruise ship jobs in various departments. For example, the recruitment agent, CTI Malaysia SDN BHD, which you can find on this site, deals with helping good candidates with the best of human resources jobs in cruise liners across Malaysia. Refer to this site and register with these recruitment agencies to get called for interviews when there is an opening that matches your profile.
End note
As you can see from the above, these portals are designed for people who are passionate about working on a cruise ship. All types of diverse jobs across all the departments for various skill-sets are available on these portals. It might take you a lot of time and effort to go through the individual website of each of the cruise liner in Malaysia to explore their current job opportunities. This is where job portals like these come to your rescue.