The prospect of traveling around the world on a cruise ship is definitely exciting and interesting for many youngsters. While a cruise ship job pays you handsomely, it also requires you to put in a lot of effort. You may have to work for all the days in a week, if needed. If you ready to do hard work, open to accommodate yourself in tough situations and have the interest to learn about new cultures, a job on a cruise would work well for you.
You can save a lot of your money in this kind of job because all your needs are looked after. You can enjoy good food and also use the staff facilities like the spa, gym, etc. You can send a lot of money back home, which is one of the main reasons for the huge demand for these cruise jobs.
Cruise/Sea Job Portals in Philippines
Are you looking for a job on a cruise ship in the Philippines? You have to look in the right places to scan through the available job opportunities and apply for the one that suits your qualifications and experience the best. Here are three places that you can refer to, for knowing about the available cruise ship jobs in the Philippines.
1. JobStreet.com.ph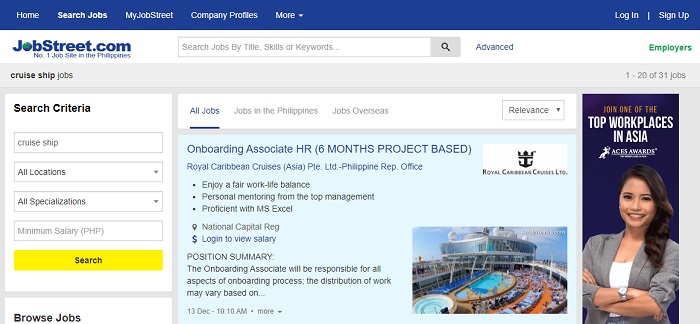 This is one of the trusted places for you to search for cruise ship jobs in the Philippines. Like most of the other job portals, here too, you can apply certain filters such as experience, specialization, etc. to narrow down your choices further. Here, you will find jobs in various departments such as HR, in-house entertainment, technical department, supervision & quality, catering, ticketing and the like. You can also view by the freshness of the job posting, so that you can apply for the most recent jobs.
2. Cruise.jobs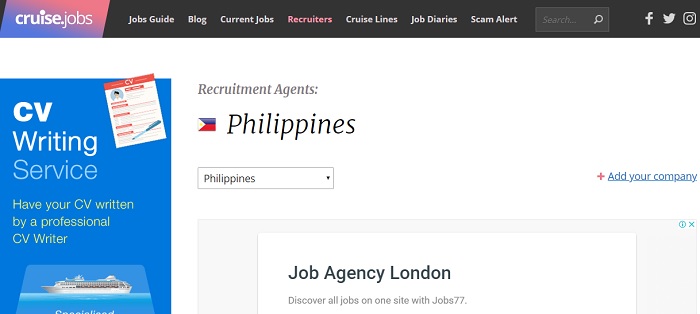 Taking the help of recruitment agents to land on a good cruise ship job in the Philippines is a great idea. Yes, you have to pay a commission to these agents, but they match your profile with some of the biggest cruise liners in the industry; therefore, you can be assured of a good break in your career when you team up with trusted recruitment agencies in the Philippines. This website will give you a list of some of the top agencies. Most of them have exclusive tie-ups with a particular cruise liner. So, this website will help you to get a job in your dream company.
3. Indeed.com.ph
Are you interested to know more about the latest cruise ship jobs available in the Philippines? This portal will give you the latest information about the same. As you can see, currently there are over 200 job openings posted by Magsaysay Agencies who handle cruise jobs of various cruise liners such as Princess Cruises, Costa Cruises, Saga Cruises and so on. So, this is one of the best places for you to look for your dream job and apply for one.
End note
In a nutshell, we would like to reiterate that while a cruise job is one of the most well-paid jobs in the world, it is quite hard to get selected into these ships. You need to be true to yourself and satisfy all the basic requirements that a job demands to get qualified for it.