Hello readers and career enthusiasts, today we will be discussing the role of a cruise ship naturalist, a highly lucrative job position on cruise lines across the world. It is a white collar role which does not require drenching in your sweats or any kind of physical hard work. But it is something about learning first and then imparting your knowledge with others i.e. guests on the ship.
In this post, we have covered every possible detail about this extraordinary profession including the salary, job description, required qualifications, and how to become and apply.
Let's have a dive in.
Detailed Job Description and Duties of a Cruise Ship Naturalist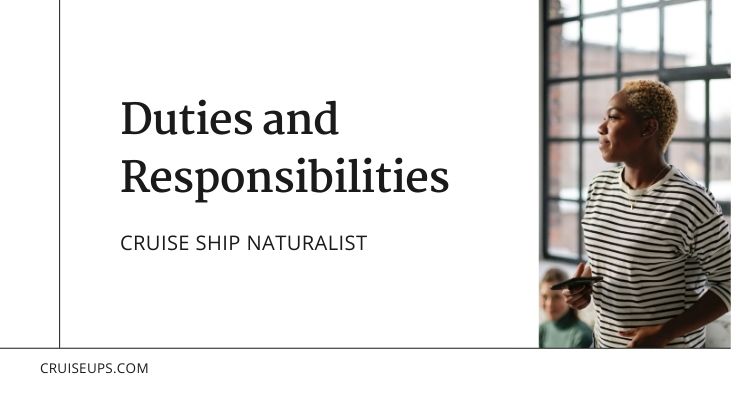 Routine Responsibilities
A naturalist provides insightful knowledge to the cruise ship passengers about nature and environment on a day to day basis. He must have sound insights about the nature and marine life, especially main locations that fall on the ship route.
Everyday duties involve following but not limited to:
Giving lectures on local wildlife, flora, fauna, and geographical features
Leading or coordinating shore excursions
Addressing passengers' inquiries about the environment
Assisting with navigation and spotting fascinating wildlife from the ship's deck
Adding value to the guests' experience by providing them with sound information about the nature.
In this video, Evan Lunde, a ship naturalist who was initially hired as a polar bear guard, now working as a ship naturalist, teaching science, and speaks about landscapes.
Variations in Duties
A naturalist's duties can vary depending on location, time, weather and the ongoing scenario. For instance, a naturalist on an Alaskan ship might focus on spotting and discussing local wildlife like whales and seals, while he on a Caribbean cruiser might lead snorkeling excursions and discuss marine habitat.
How to Become a Naturalist on a Cruise Ship ?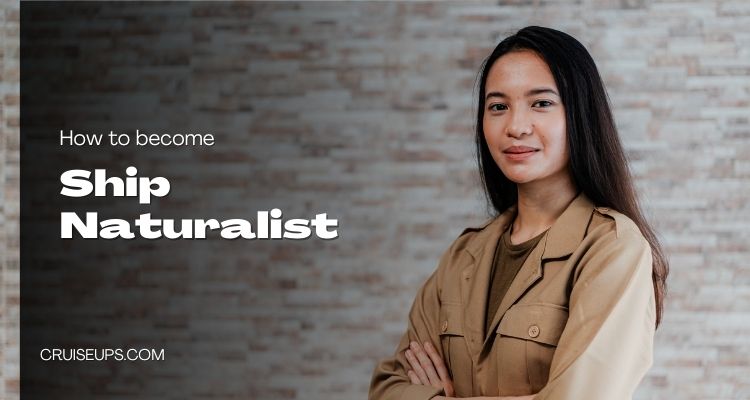 Here is a step-by-step process. If you are really serious in this profession, absorb each step and make sure you practically implement these all.
1. Get a Good Knowledge and Insights about Natural Sciences
First and foremost, you must be keen in learning about nature. That will help you become a naturalist naturally with right passion. In addition, go for a relevant degree such as environmental sciences, biology or ecology. This will not only help you learn more about your desired profession but also strengthen your job profile.
2. Build Experience and Obtain Relevant Skills
Next, get some experience in a related field. You can do this by doing internships, volunteer work, or working in nature centers, parks, or conservation organizations. This experience will help you learn practical skills needed to become a successful cruise ship naturalist.
3. Gain the Right Certifications
Some cruise lines might need you to have specific certifications like first aid, wilderness survival or CPR. For an idea, search for the relevant openings on Indeed, LinkedIn, or GlassDoor, check what certifications are required for the jobs you're interested in. Begin pursuing them.
4. Apply for Cruise Naturalist (Speaker/Lecturer) Jobs
Once you have the right education, experience, and certifications, start applying for jobs. Look for positions on cruise lines that go to places you know about and are interested in. Look for latest openings in classified section of printed media, job portals, and the websites of major cruise lines and sea hiring agencies. LinkedIn and Indeed are good places to start from.
5. Keep Learning and Growing
After you get your first job, keep learning and growing. Stay updated with the latest findings and research in your field and find opportunities for professional development.
Remember that each industry is continuously evolving and becoming more competitive and the same goes with naturalists.
Overview of Required Skills and Qualifications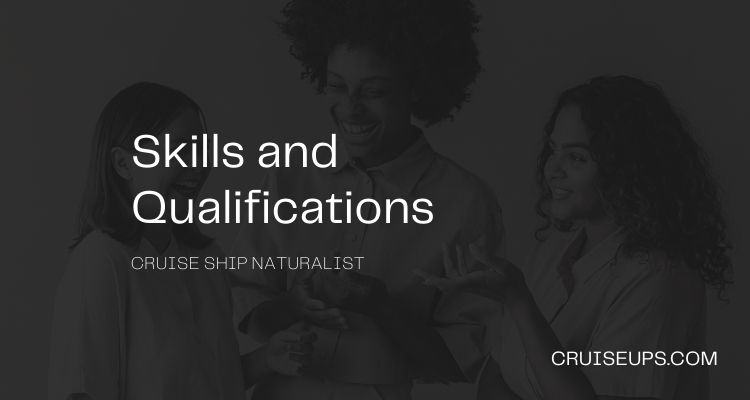 Educational Background and Certifications
They typically have a strong knowledge in fields such as biology, geology, ecology, or marine sciences. A degree in any of these studies, while not always required, can be highly beneficial to land an awesome job of your dream. Additionally, certifications in areas like wildlife management or environmental education can enhance your job prospects.
Essential Soft Skills
Because of the nature of the job, cruise line naturalists need excellent public speaking skills to deliver engaging presentations. Customer service skills are also very crucial, as you will be interacting with passengers on a daily basis. Adaptability is key, as the job often requires you to adjust plans based on weather conditions or wildlife sightings.
Salary: How much do cruise ship naturalists make?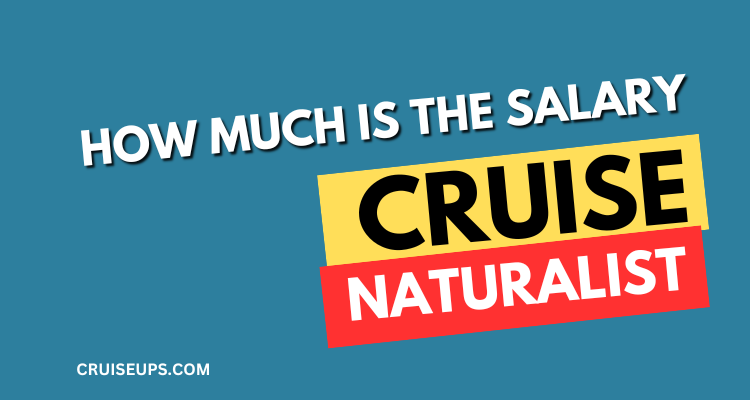 Here is an estimated range of monthly and yearly salaries of a cruise ship naturalist, in different countries:
| # | Country | Monthly ~Avg | Yearly ~Avg |
| --- | --- | --- | --- |
| 1 | United States | $3,000 to $3,500 | 36,000 to 42,000 |
| 2 | Australia | $2,000 to $2,625 | 24,000 to 31,500 |
| 3 | Canada | $2,917 to $5,417 | $35,000 to $65,000 |
| 4 | UK | £1,500 to £2,917 | £18,000 to £35,000 |
| 5 | South America (Brazil, Argentina, Chile) | $2,300 to $3,000 | $27,600 to $36,000 |
| 6 | East Asia (Singapore, Japan, Indonesia, Malaysia) | $1,500 to $4,000 | $18,000 to $48,000 |
| 7 | South Asia (Pakistan, India, Bangladesh, Sri Lanka) | $800 to $2,500 | $9,600 to $30,000 |
| 8 | Middle East (UAE, KSA, Qatar, Lebanon, Oman) | $1,500 to $4,000 | $18,000 to $48,000 |
Learn more about cruise ship salaries in USA for different kinds of roles.
Salary sources: Glassdoor, Glassdoor
Job Market of a Naturalist Speaker
With the growing popularity of eco-tourism, the demand for knowledgeable naturalists is on the rise.
Potential Employers and Career Paths
Naturalists are typically employed by cruise lines, but they may also find opportunities with national parks or environmental organizations that partner with cruise lines. With experience, naturalists can progress to roles such as Cruise Director or even positions in cruise line management.
Where to Find Cruise Ship Naturalist Jobs?
Following we have listed down some of the major cruise lines and their career pages:
Latest Openings for Naturalist Speaker Jobs:
Naturalist Jobs in Alaska
For further guidance and help, we are putting down these resources to find a Naturalist jobs in Alaska.
Personal Experiences and Anecdotes
Many naturalists speak of the thrill of sharing their love for nature with passengers and the joy of seeing passengers' excitement when spotting a rare animal or witnessing a beautiful sunset.
Role in Environmental Conservation
Naturalists play a crucial role in promoting environmental conservation. By educating passengers about the importance of protecting natural habitats and wildlife, they can inspire passengers to become more environmentally conscious. They also help ensure that shore excursions and other activities are conducted in a way that minimizes impact on the environment.
Practical Cruise Planning Advice
If you're considering a career as a Naturalist Speaker on a ship, it can be helpful to experience a naturalist-led cruise first-hand. When planning a cruise, look for cruises that advertise having a naturalist on board.
Conclusion
Becoming a Naturalist is more than just a job—it's a lifestyle. While the role can be demanding, the rewards—both personal and professional—are immense.
More reads for you: