A cruise job that pays well is the dream of many youngsters today. However, not many are able to give wings to their dreams, because of lack of proper information. You should register on job portals that are exclusively designed to provide cruise job listings, to find an interesting job.
Here, you will find 13 such cruise ship job websites dedicated to sea career listings only. These portals will give you the job of your dreams. Take a look at these portals and register your name for the openings that suit your education & experience. This will help you to make your career on a cruise ship – something that you had always wanted to do!
13 Websites to Find a Lucrative Cruise Ship Career in 2023
1- CruiseJobFinder.com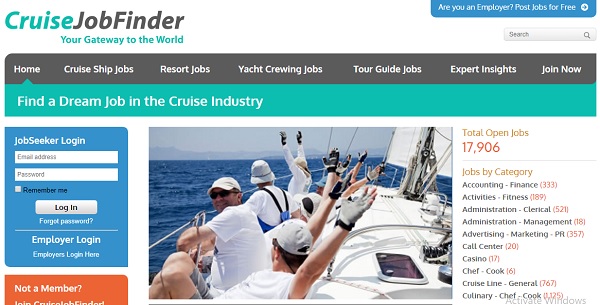 This is an exhaustive job portal that lists the latest cruise ship job offers from across the world. There are over 1000 employer profiles here, for you to browse through. All you need to do is to register on this site and mention your areas of interest. This website keeps sending you regular job alerts about the latest job opportunities in the marine industry. On this site, you will find more than 200 pages of information about jobs in the marine industry. Regardless of the nature of the cruise job you prefer (permanent or contract), you will find it here.
2. AllCruiseJobs.com
You need the services of a cruise job portal that updates its content regularly, if you are looking for a well-paying cruise job.  The All Cruise Jobs portal is a popular and user-friendly job portal for you. Finance, marketing, hospitality, operations – you name it and you will find a job in that department, on this site. If you are great at cooking and love to explore the world on a cruise, you may want to get a job in the restaurant of a cruise. This site will give you the latest job details across various departments. Some examples of these departments are:
Hospitality
Engineering
Deck
Food & beverage
Medical
3. SeaCareer.com
Sea Careers is one of the well-known portals for people who are looking for cruise jobs of all types and ranks. There are three main categories of jobs that you can look for here. They are seagoing jobs, shoreside jobs, and offshore jobs.  There is a detailed list of job profiles under each of these categories. This list will give you a clear idea as to what you can expect from the portal.
4. Maritime Connector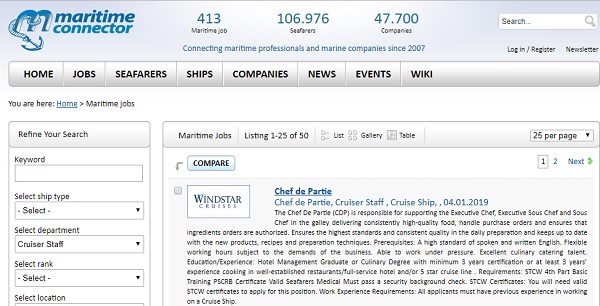 Maritime Connector is one of the most famous cruise job portals today. This is because it offers a wide range of jobs, across all ranks, in the marine industry.  You will find a field named "keyword" on this site, when you search for jobs. Here, you have to type "cruise"  and click on the enter key. This will give you the current cruise job openings. The site is user-friendly as well because it gives you lots of flexibility. You can choose jobs based on various preferences such as location, ship type, job rank, etc.
5. Maritime Union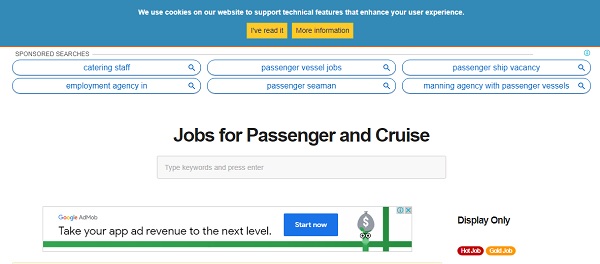 The Maritime Union job portal is a great choice for you, If you are looking for a good job portal that offers you the latest cruise jobs. On this site, you can choose specific jobs. This is because, there are lots of options for you, based on which you can choose the job that you want to apply for. A tab called jobs gives you the various categories of marine job listings that can be found on this portal. Don't want see all the marine openings? In the tab called vessel type, just type "passenger and cruise". This will give you the updated list of cruise-specific jobs, posted by all international cruise lines. Presently, there are over 600 openings for cruise jobs on this site. Choose your profile wisely by reading through the job descriptions carefully.
6. CruiseShipJob.com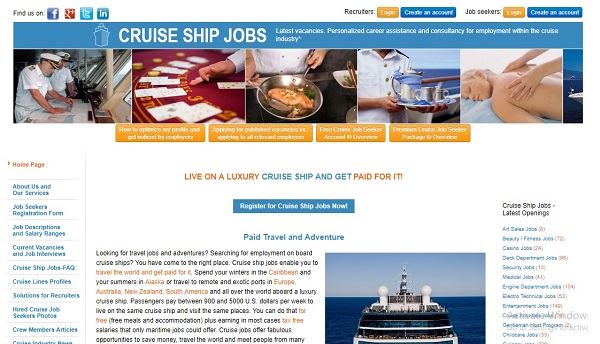 Cruise Ship Jobs portal gives you the latest cruise job openings across the world. Read through each one of them in detail and apply for the ones that suit your requirements the best. You will find job openings from all the popular cruise lines in the world, on this portal. It is a golden chance for you to make your dream come true and work in your dream cruise company. Do you want to work for a particular cruise line? Check if that company is there on this site. If yes, click on the company directly to find the present job openings there. It is very easy to navigate around this website and find the job listings that you are looking for.
7. CruiseLinesJobs.com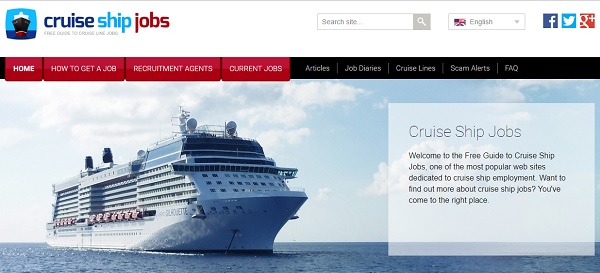 Are you interested in working on a cruise but don't know what to expect out of it? The Cruise Line Jobs portal will solve your issue. Apart from providing a list of the latest cruise line jobs for you, this site also acts as a guide to help you with your doubts. This site contains valuable information such as the following:
Ways to find a good cruise job
The importance of your photo in your application
Ways to make an impressive resume
Tips to develop your business skills before applying for cruise jobs
Do you want to improve your knowledge about the cruise line industry? Do you want to sharpen your skills to get yourself a well-paying cruise job? If yes, register on this site right away.
8. SeaJobHunt.com
This is a newly merchant navy job sites that have been getting a lot of positive reviews from its users. This site gives you a list of navy job openings across various departments. Some of these departments are the following:
Offshore
Deck
Engine
Catering
Security
Medical
Cruiser staff
Platform
Shore
It also gives you the option to choose job openings by the vessel type. You can choose cruise ships, to get a list of cruise job listings across the world displayed before you.
9. MaritimeJobs.org
This is a decent job portal if you are looking for the latest and most popular cruise jobs from across the world. You will find jobs for different ranks and departments on this site. Currently, there are close to 50 cruise jobs listed on cruises and passenger ships. There is a separate tab here, which is called, "Applying for a job." Ensure you read this section first as it contains detailed instructions for you. These instructions related to the following mostly:
How you should apply
What you should follow if you want your application to look attractive
10. Nautilus Jobs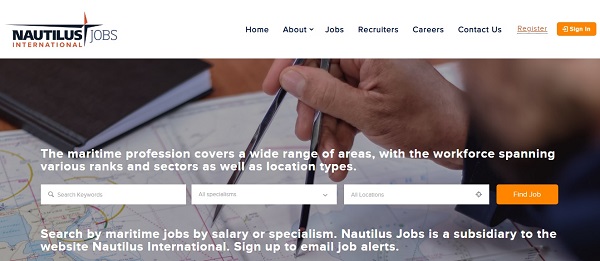 Do you want to know about some of the top cruise job listings in the UK? If yes, this portal of Nautilus International will be of great help to you. Here, you can choose jobs by various fields such as specialism, location, vessel type, nature of the job, pay and rank. These options allow you to be very accurate while searching for the cruise job of your choice. You will get job listings of new and famous cruise companies on this portal. Register here with your valid credentials. You also need to keep updating your resume regularly here. This will help you get alerts about suitable cruise jobs that suit your profile.
11. Indeed.com

Indeed is one of the fastest growing job portals in the world today. It is also one of the most trusted job websites because it doesn't spam your emails or inbox unnecessarily. There is a section called "keyword" when you look on the jobs tab. Here, you need to type "cruise", to get the list of cruise job openings on this site. The site mentions the job descriptions in detail. You will find complete information about the location, experience needed, etc.  Are you not interested in permanent positions? Don't worry; this site gives you job listings of contract or temporary cruise profiles as well.
12. GCaptain.com
All the latest maritime and offshore job listings are found on this portal. Once you select cruise as your keyword, you will get many open job positions displayed on your screen. this portal gives you a series of options to filter such as the following:
Function (management, engineering, etc.)
Location
Company
Date when the job was posted
All the profiles listed on this portal are quite detailed. You can understand and apply for them easily, without any hassles.
13. Career page found on the official websites of famous cruise liners
Do you want to get the cruise job of your dreams? Visit the official website of your favourite cruise line (Royal Carribean, P&O, etc.) check the jobs section on these sites.  You may find words such as careers work with us, jobs, etc. on this site. You will come to know the latest job openings with your favourite cruise lines. So, you can easily apply for them directly, if your qualification and experience are suitable for the same.
Cruise Ship Jobs: Conclusion
All these job portals have detailed instructions about the process of job application. Read through them carefully. Then, you need to create your account with these sites with valid credentials. Ensure that you update your profile properly so that you get alerts of relevant and genuine job openings only.
Infographic