Cruise ship receptionists are responsible for providing excellent customer service to guests aboard the ship. If you're interested in pursuing your career as a front desk officer or a receptionist, keep reading! We will outline the generic job description, skills and duties required for the job and give you some tips on how to stand out from the competition.
What is a cruise ship receptionist?
A cruise line receptionist is responsible for handling all administrative duties related to the reception area. They must be able to handle a variety of tasks and provide assistance to guests with any questions or concerns they may have. The most successful candidates will have previous customer service experience and be able to work well under pressure.
Average salary
As you can imagine, the salary of a cruise ship receptionist is very good. In fact, most cruise ship receptionists make more money than the average person. The average salary for a cruise ship receptionist is around $30,000 per year. However, some make much more than that i.e. up to $50,000 annually.
So, if you're looking to make a good salary as a cruise ship receptionist, you'll definitely be able to do so. Just remember that the competition for these positions is very high. So, you'll need to make sure that you have the necessary qualifications and experience. Good luck!
Duties / responsibilities
The duties of a cruise ship receptionist include:
Answering guest questions and concerns in a professional and efficient manner
Handling all administrative duties related to the reception area
Providing excellent customer service
Maintaining a positive and professional attitude at all times
See also: Cruise Ship Job Titles and Descriptions
What Skills are required for a cruise ship receptionist?
As a cruise line receptionist, you must have excellent customer service skills, as you are often the first point of contact with the passengers. You should be able to handle customer complaints and inquiries in a professional manner. A receptionist or front desk officer is also responsible for handling incoming calls and relaying messages.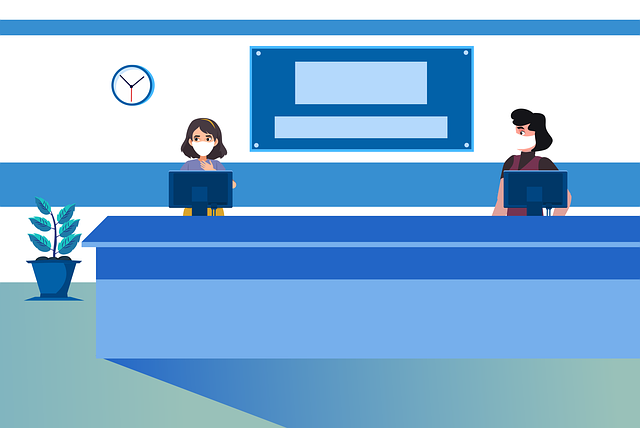 Additionally, you should have strong administrative skills, as you will be responsible for managing passenger records, appointments and scheduling. You should be able to keep track of multiple tasks at once and work well under pressure.
Strong computer skills are also preferable, as you may be responsible for handling customer data and reservations. You should be able to type quickly and accurately, and have knowledge of common office software applications, such as Microsoft Office, especially Excel, Word, and PowerPoint.
Finally, it is also helpful to have some experience in the hospitality industry, as this will give you a better understanding of the expectations of passengers on a cruise ship.
Age
The general age requirement for a cruise ship receptionist is minimum 21 years old. Maximum age of the candidate is usually 40 years.
Qualification
Some companies may state that a high school diploma or equivalent is required, most will also consider candidates with some college experience, especially if they have customer service experience.
A high school diploma or equivalent is the minimum educational requirement for most receptionist positions, although some employers may prefer candidates with postsecondary education, such as an associate's degree in business administration or a related field. Many community colleges offer two-year programs in related areas. Courses in customer service, computer applications, office procedures and communication can also be helpful.
Why work as cruise ship receptionist?
Working as a cruise ship receptionist can be a rewarding experience. You will have the opportunity to meet people from all over the world and learn about different cultures. You will also be able to see some of the most beautiful places on earth. In addition, you may receive free room and board, as well as other benefits such as discounts on cruises and travel expenses.
Where to find a cruise ship receptionist job?
Following are some online job portals where you can spot latest openings for cruise ship receptionists in your country:
USA
AllCruiseJobs.com
Cruise.jobs
CruiseShipJobs.com
Australia
http://seek.com.au/cruise-ship-jobs
http://simplyhired.com.au/search?q=cruise+ship+jobs&l=Australia
https://cruise.jobs/recruitment-agents/australia/
Canada
https://ca.indeed.com/Cruise-Ship-jobs
https://cruise.jobs/recruitment-agents/canada/
https://ca.linkedin.com/jobs/cruise-ship-jobs
UK
https://www.pocruisescareers.co.uk/
https://uk.indeed.com/Cruise-Ship-jobs?vjk=77e3ebf5f66d839d
https://cruise.jobs/recruitment-agents/united-kingdom/
Japan
AllCruiseJobs – https://www.allcruisejobs.com/search/japanese/
CruiseJobDirectory – https://cruisejobdirectory.com/2014/01/cruise-line-hiring-partners-in-japan/
SeaChefs – https://www.seachefs.com/en/fleet/your-job-on-board-international-ships
Indonesia
Cruise.jobs – https://cruise.jobs/recruitment-agents/indonesia/
CruiseJobDirecotry – https://cruisejobdirectory.com/tag/indonesia/
Ebu.co.id – https://ebu.co.id/job/cruise/
Crew Center – https://crew-center.com/employment-agencies-list/191
Malaysia
Job Street – https://www.jobstreet.com.my/en/job-search/cruise-ship-jobs/
Jora – https://my.jora.com/Cruise-jobs-in-Malaysia
Cruise Job Directory – https://cruisejobdirectory.com/2014/01/cruise-line-hiring-partners-in-malaysia/
South Africa
Cruise Job South Africa – http://cruisejobssouthafrica.co.za/
Simply Hired – https://za.simplyhired.com/search?q=cruise+ship
Indeed – https://za.indeed.com/Cruise-jobs
Singapore
JobsDB – https://sg.jobsdb.com/Cruise-jobs-in-Singapore
LinkedIn – https://sg.linkedin.com/jobs/cruise-ship-jobs
JobStreet SG – https://www.jobstreet.com.sg/en/job-search/cruise-jobs/
India
CruiseCareers.in – https://cruisecareers.in/
LinkedIn India – https://in.linkedin.com/jobs/cruise-ship-jobs
Kamaxi – https://www.kamaxi.com/
Philippines
Indeed PH – https://ph.indeed.com/Cruise-Ships-jobs
JobStreet – https://www.jobstreet.com.ph/en/job-search/cruise-ship-jobs/
Jora – https://ph.jora.com/Cruise-Ship-jobs-in-Philippines
You may also like: