A cruise ship nurse is a registered nurse who works aboard a sea ship. The job description includes providing medical care to passengers and crew, as well as supervising the ship's medical staff. Job requirements include a valid nursing license and experience in a hospital or clinics. They are responsible for providing first aid, administering vaccinations, and assisting in the event of an emergency. Becoming a cruise ship nurse is a good way to earn a high salary and enjoy free travel.
Here is the detailed guide about objective, duties, salary and everything you need to know about a sea ship nurse or nurse practitioner. We have also covered about how to become a cruise ship nurse, in case you are just beginning your career.
What is a cruise ship nurse: job description and responsibilities
Duties of a cruise ship nurse constitute providing general medical care, dealing with any medicinal emergencies that may occur at sea. A cruise or yacht nurse must be able to handle an assortment of medical issues, from minor injuries and illnesses to more serious health problems. A maritime nurse may have to work longer than normal such as for a 12-hour shift.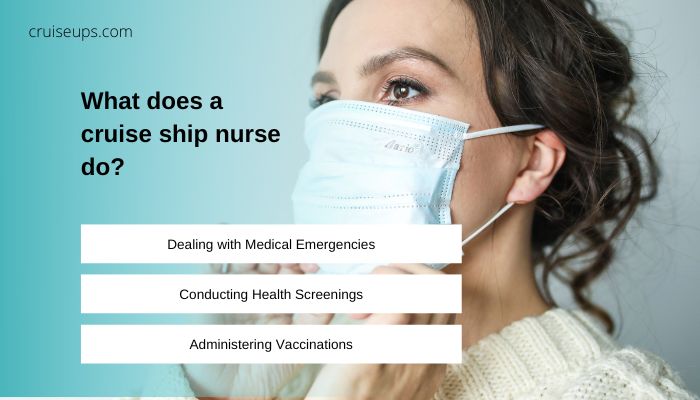 Responsibilities may further include conducting health screenings, administering vaccinations, and enforcing quarantine procedures when necessary. Sea ship nurses need to be highly organized and able to work well under pressure. They also need to be excellent communicators, as they will often be dealing with people from all over the world.
Job requirements
Cruise ship nurses have a unique set of job requirements that are different from those in other medical settings. In order to be eligible for a position as a cruise ship nurse, applicants must have a valid RN license as well as a minimum of two years of experience in a acute care setting.
Sea nurses may also be required to exhibit a certification in CPR and basic life support. In addition, they must have a strong understanding of infectious disease control and be able to effectively manage basic health emergencies at sea.
See also: List of all job roles on a cruise ship
How to become a cruise ship nurse?
Cruise ship nurses are in high demand! Cruise lines are always looking for qualified, experienced, candidates to fill these important roles. But what does it take to become a cruise ship nurse?
Becoming a nurse particularly on a cruise ship is an excellent way to explore new places of the world while providing essential medical care to those who need it. Therefore, there are a few steps that you will need to take. First, you will need to become a registered nurse. This can be done by completing an accredited nursing program and passing the NCLEX-RN exam. Once you have become a registered nurse, you will need to obtain a minimum of two years of experience working in a clinic or hospital.
You will also need to possess a valid passport and be proficient in both English, Spanish and other international languages (optionally). Finally, you will need to apply for a position with a cruise line. Once you have been hired, you will be responsible for providing medical care to passengers and crew members during their voyage.
If you are confident to apply for your desired nursing role on a ship, the next step is to find an open position. Cruise ship companies typically hire through agencies that specialize in onboarding nurses on ships. Once you find an agency that you feel comfortable with, the rest is easy! Just fill out an application and wait to hear back from the cruise ship company. If you are offered the job, congratulations! You are on your way to an exciting and rewarding career as a cruise ship nurse!
Benefits
First and the foremost advantage of working as a cruise ship nurse is that you get to explore new places and destinations. Also, you find new people from different ethnicities and regions, that you can provide nursing care to. A cruise line nurse would have the opportunity to learn new talents and expertise. She would receive higher paybacks than nurses who work in local clinics.
Cruise ship nurses also have the benefit of being able to work in a variety of settings, such as hospitals, clinics, and even private practices. As a result, they usually find a job that is best suited for their skills and interests.
Here is one more pro: if you work as a cruise ship nurse, you have an upper hand to find your desired job at a hospital or medical facility, easily and rapidly. Working on the sea is definitely a richer experience than working at a local clinic.
Salary
Cruise ship nurses can expect to earn a competitive salary, based on their experience and qualifications. Salary ranges will vary depending on the size of the cruise ship, and the number of passengers. In general, ship nurses can expect to earn between $3,000 and $5,000 per month (around $60,000 per year). In addition to their base salary, they may also receive benefits such as free or discounted travel, health insurance and paid vacation days.
Schedule
As a cruise nurse, your schedule would vary depending on the ship you work for and the itinerary of the cruise. However, most ship nurses work 12-hour shifts. You will typically have two days off per week, but this would also be determined by your cruise line.
Some cruises offer nurses the opportunity to take advantage of port days to explore the destinations, while others require that you remain on board to provide medical care to passengers and crew. Whichever cruise company you work for, you will need to be able to adapt to changing schedules and be flexible in your approach to patient care.
Contracts
Cruise ship nurse contracts comprise of provisions for working hours, duties, compensation, and benefits. Nurses are required to sign a contract that outlines the terms of their employment. They are also typically responsible for their own medical insurance and travel expenses. In exchange for these protections, nurses typically receive a higher salary than their counterparts who work in land-based medical facilities. Cruise ship nurse contracts typically last for six to twelve months.
Interview Questions
Interviewing for a ocean liner nurse can be a bit different than interviewing for a traditional nursing role. In addition to the usual questions about your experience and qualifications, you can expect to be asked some specific questions about working on a sea ship. Here are some of the most common interview questions for cruise ship nurses:
Tell us about your nursing experience.
What type of medical emergencies have you dealt with in the past?
What do you think are the most important qualities for a Cruise Ship Nurse?
What experience do you have with seasickness?
What are your thoughts on working long hours?
How do you feel about working in close quarters with others?
What are your thoughts on working in a CDC-regulated environment?
What do you think are the biggest challenges faced by Cruise Ship Nurses?
How would you deal with a situation where a passenger became seriously ill or injured?
What experience do you have with providing medical care to large groups of people?
What are your thoughts on being away from home for long periods of time?
How do you deal with difficult or challenging situations?
Why did you choose to apply for this role?
Do you have any questions for us?
Asking questions like these will help the interviewer to get a better sense of whether or not you would be a good fit for the position. Be prepared to answer these questions honestly and thoughtfully, and you'll increase your chances of landing the job.
See also: How to Write CV for a Cruise Ship Job?
Life as a cruise ship nurse
Life as a cruise ship nurse is an amazing experience, certainly. You get to travel the world, you see amazing places every other day while performing your duty. Meeting people from all walks of life and learn about their culture and way of life; this is really something people dream of.
Life of a sea ship or yacht nurse can be challenging at times, but it is also very rewarding. You get to serve humanity in need and make a difference in their lives. If you are considering a career in nursing, then working as a cruise ship nurse is definitely something to consider.
Registered nurse vs. nurse practitioner
A Registered Nurse is a professional nurse who has completed an accredited nursing program and passed a national nursing licensure exam. Registered nurses work in hospitals, clinics, and other medical facilities. Cruise lines and yachts also employ RNs to ensure basic medical care for their crew and passengers. Registered nurses provide direct patient care, educate patients and families about health conditions, and administer medication. These nurses also work with other health care providers to coordinate patient care.
Registered nurses need a bachelor's degree in nursing to pass NCLEX exam and qualify for the state license.
NPs or Nurse Practitioners carry a higher role than a registered nurse. To become a nurse practitioner, one must have completed Master's degree in nursing (MSN) or even higher. NPs can provide many of the same services as a physician, including diagnosing a health disorder and treating it, recommending laboratory tests, and prescribing medications.
In addition, nurse practitioners often provide preventive care services, such as screenings for high blood pressure or cholesterol. In many cases, nurse practitioners provide care for patients who might not otherwise have access to a physician.
There is a high demand of nurse practitioners on cruise lines around the world. If you are seeking a nursing career on a ship, becoming an NP is certainly rewarding.
Where to find cruise ship nurse job vacancies?
Following are country-wise guides and helpful links to pick out latest job openings for a sea ship nurse.
USA
These websites provide you with the latest vacancies for cruise ship nurse in the US.
Canada
Find cruise ship or travel nurse hiring announcements 2022 in Canada:
https://cruise.jobs/recruitment-agents/canada/
UK
From United Kingdom?
Here are some job portals helpful to locate a travel nurse job opportunity in the UK.
https://www.carnivalukcareers.co.uk/working-onboard-as-a-nursing-officer/
Australia
In Australia, following websites are useful to find job offers for a marine or sea nurse:
https://au.indeed.com/Cruise-Ship,-Nurse-jobs
https://www.seek.com.au/ship-nurse-jobs
https://bit.ly/3vhb1T2
South Africa
These portals post the latest job openings for cruise ship nurses in South Africa:
https://za.indeed.com/Cruise-Ship-Job,nursing-jobs
https://cruise.jobs/recruitment-agents/south-africa/703/
https://www.pnet.co.za/jobs–Nursing-Cruise-Ship-Nursing-Medical-UK-Abroad-Ref-L-E-UK-Abroad-AGC-Recruitment–3355021-inline.html
https://www.careers24.com/jobs/lc-south-africa/se-cruise-ship,medical/
Philippines
Check out latest ship nurse/nurse practitioner job openings in Philippines:
https://ph.indeed.com/Magsaysay,cruise-Ship-Nurse-jobs
https://www.glassdoor.com/job-listing/cruise-ship-nurse-magsaysay-maritime-corp-JV_IC2363569_KO0,17_KE18,41.htm?jl=1007653394884
https://ph.jora.com/Ship-Nurse-jobs-in-Philippines
Japan
https://www.allcruisejobs.com/i32684/-nurse-japanese-speaking/
Indonesia
https://www.linkedin.com/jobs/registered-nurse-jobs-16415
Singapore
https://sg.indeed.com/Nurse,-Swabber-Cruise-Ship-jobs
https://sg.jooble.org/jobs-cruise
https://www.jobstreet.com.sg/en/job-search/cruise-jobs/
India
https://www.naukri.com/nurse-cruise-jobs
https://www.quikr.com/jobs/female-nurse-vacancies-in-cruise-ship-in-india+mumbai+zwqxj4157493934
https://indianjob24h.in/shipboard-nurse-job9929
Frequently asked questions
Can cruise ship nurses bring their families?
Whether a nurse can bring her family on the ship or not is determined by the policy of the cruise line and the nurse's individual contract. Some cruise lines may allow you to bring your kids and even spouse on the ship. If this matters to you, it is important to read the policies and terms of the cruise line you are going to join. As a ship nurse, if you are able to take your family members onboard, it is a great opportunity to spend time together while exploring new spots and cultures.
How many hours do cruise ship nurses work?
Standard work shift of a cruise ship nurse is 12 hours. However, it may also depend upon the policies of the cruise line you're going to join.
Is working on a cruise ship worth it?
For many people, the idea of working on a cruise ship is the stuff of dreams. After all, what could be better than spending your days exploring exotic locations and enjoying the company of friendly passengers? However, behind the scenes, working on a cruise ship is often much different than what most people imagine. Beneath the glossy exterior, there is a world of long hours, low pay sometimes, and challenging working conditions. For many workers, the reality of life on a cruise ship falls far short of the dream.
Of course, not all cruise jobs are created equal. It matters on the role you've got on the ship. Employees who deal with passengers such as cabin staff and waiters often have more positive experiences than those who work in less visible positions such as kitchen staff and housekeeping.
Employees who work on leading positions such as a cruise director or captain would enjoy higher pay, more benefits and perks. For many workers, the pros of working on a cruise ship outweigh the cons. However, for others, the challenges of life at sea are simply too great to make it worth their while.
Do cruise ship nurses get days off?
The answer is yes! Cruise ship nurses typically work five days per week, with two days off. However, the hours can be long and unpredictable, and you may be required to work extra shifts on your days off.
How much does a yacht nurse make?
The average salary for a yacht nurse lies somewhere around $3,500 to $4,500 a month ($54,000 per year). However, salaries can vary significantly depending on the size of the yacht, the length of the sailing season, and the location of the yacht. Yacht nurses who work on luxury yachts in popular sailing areas can earn upwards of $100,000 per year.
You may also like: