Cruise ship cabin stewards play an important role in ensuring passengers have a comfortable, enjoyable experience on board. They are responsible for providing cleaning services, stocking supplies and providing attentive customer service to guests.
In this article, we'll explore the job description of a cruise ship steward, requirements, salary, qualifications, and some tips for aspiring sea ship staff. So, whether you're looking for a new career or you just want to learn more about what goes on behind the scenes of a cruise vacation, read on to find out all about cabin stewards and their essential role in making sure passengers have everything they need during their voyage.
Job description
Cruise cabin stewards are responsible for providing excellent service and hospitality to guests during their voyage. A ship steward(ess) will ensure that the accommodations are impeccably clean and well-maintained throughout the voyage. They are available to attend to any requests or concerns that passengers may have during their trip, in order to ensure that everyone has a relaxing and enjoyable experience while onboard.
The job description of a cruise ship steward is quite varied and includes many duties. On a daily basis, stewards clean cabins, vacuum carpets, change bed linens, dust surfaces, make beds and tidy cabins to ensure they are in good condition for passengers. They also stock bathrooms with toiletries and replenish supplies such as shampoo and soap. Additionally, stewards may be required to check safety regulations in the cabins, such as life jackets and fire extinguishers.
In order to provide outstanding guest service, stewards' crew may be called upon to assist passengers with questions or offer suggestions on activities and attractions while on board the ship. In addition, they may also help organize shore excursions and coordinate dining reservations.
You may want to learn about cruise ship waiter job description as well.
List of duties and responsibilities
1. As a cabin crew member, your responsibility is to ensure that all the cabins, including the seats, furniture, carpets, and lavatories, are clean and in good welcoming condition before the passengers board the ship.
2. Stock bathrooms with toiletries such as shampoo and soap, and replenish supplies when necessary.
3. Check all safety regulations in the cabins, including life jackets and fire extinguishers, to ensure they are up-to-date and in working order.
4. Respond to passenger requests, inquiries and complaints in a timely and professional manner.
5. Assist passengers with their luggage upon arrival and departure from the ship.
6. Ensure cabin amenities such as television, mini-bars, etc., are functioning properly.
7. Provide helpful tourist information about the port cities and attractions.
8. Report any maintenance issues in cabins to the engineering department in a timely manner.
9. Make regular rounds of all cabins to check for operational issues, cleanliness and safety hazards.
10. Follow instructions from supervisors and perform other related duties as assigned.
11. Maintain a friendly and professional demeanor with passengers at all times.
12. Follow established safety protocols for handling hazardous materials, such as cleaning chemicals.
13. Keep up to date on changes in safety protocols or operational standards related to the position of cabin steward.
14. Perform general cleaning tasks such as vacuuming, mopping and scrubbing surfaces as needed.
15. Check cabins for any signs of damage or disrepair and report them to the supervisor on duty.
16. Greet passengers upon entering a cabin and provide them with information about the ship's amenities.
Salary: How much does a cruise steward make?
A cabin steward's salary varies depending on the country and region they work in.
In the United States, a cabin steward can expect to make an average of $20-$25 per hour, while in Canada the salary is slightly higher at around $26-$30 per hour. In Indonesia, India, Australia and the United Kingdom, cabin stewards can make around $14-$18 per hour.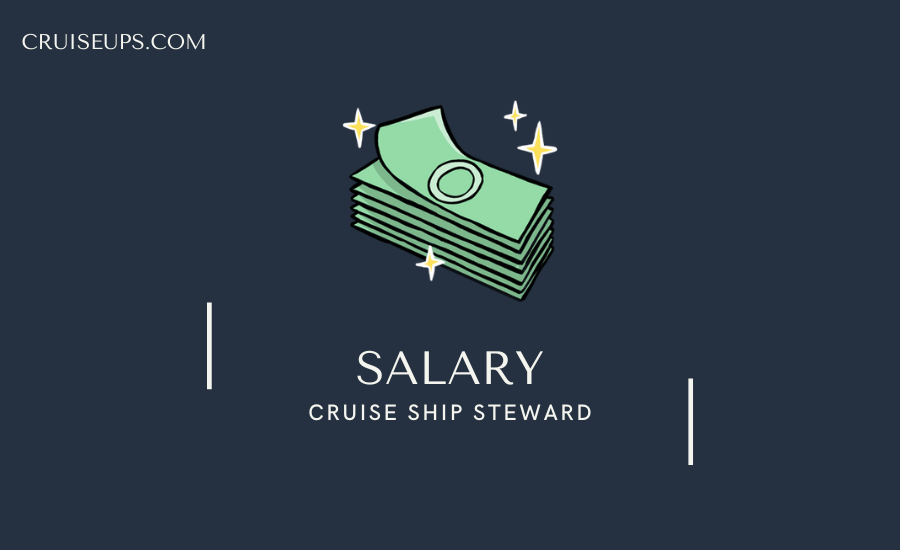 In South Africa and Brazil, cabin stewards earn an average of $9-$12 per hour.
In Mexico and most European countries, the salary is slightly lower at around $8-10 per hour.
Additionally, many cruise companies offer bonuses or other performance incentives to cabin stewards, such as additional pay for working on holidays or tips from passengers.
Some cruise lines may also offer a signing bonus of up to $1,000 USD upon successful completion of their first contract.
Furthermore, many cabin stewards receive complimentary meals, drinks and other onboard amenities while on board the ship.
See also: Cruise Ship Electrician Job Description
Qualifications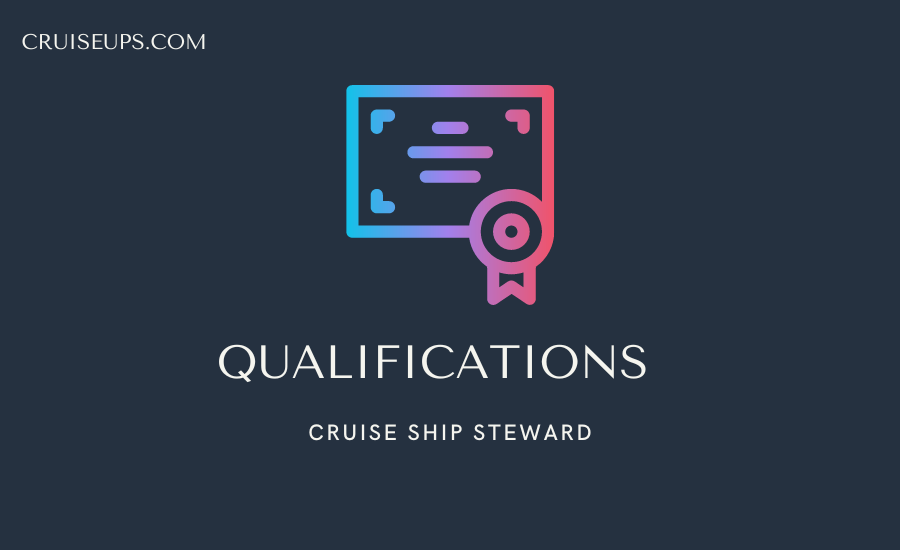 Cruise stewards must have a variety of qualifications in order to be successful.
Fitness: They need to be physically fit and able to lift heavy loads, as they will often be responsible for stocking supplies and other duties that require physical strength.
Organizational skills: They also need to possess strong organizational skills, as they will be required to maintain cabin cleanliness and organization to ensure a pleasant experience for guests.
Interpersonal skills: Additionally, they must have excellent interpersonal skills, as they will be the primary point of contact with passengers during their cruise and will need to respond quickly and professionally to any issues that may arise.
Relevant knowledge: They must have knowledge on safety protocols and procedures related to cruise ship operations, in order to handle any emergency situations that may arise.
Being responsive: A sea ship cabin steward must also be prepared to respond to passenger requests, such as making reservations for restaurants or organizing special events.
See also: Cruise Ship Receptionist
Job requirements
The most important job requirement for a cruise ship housekeeper or steward is a willingness to work long hours in often cramped conditions, providing a high level of service to passengers at all times.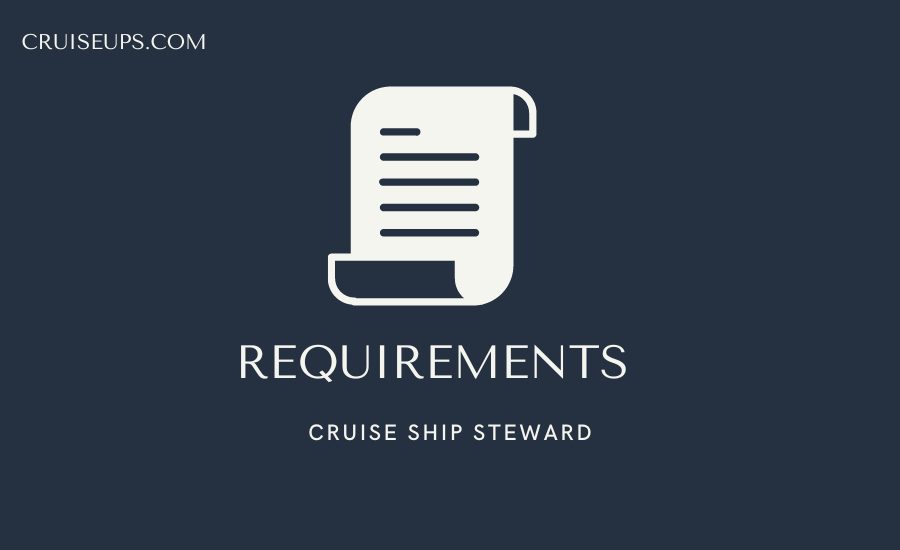 Excellent customer service skills are essential, and a friendly attitude is important for dealing with varied passenger requests.
As such, they need to be reliable and detail-oriented individuals who can work with minimal supervision.
Job requirements for a ship cabin steward may include:
Excellent customer service and communication skills.
Knowledge of safety protocols and procedures related to cruise ship operations.
Ability to multitask and respond quickly in high pressure situations.
Experience with hospitality industry standards, such as taking reservations for restaurants or organizing special events.
Ability to work independently with minimal supervision.
Basic knowledge of computer operations, including software and point-of-sale systems.
Physical stamina and agility for cleaning cabins and navigating the ship's decks.
Knowledgeable about safety regulations related to hazardous substances such as cleaning products, fuels, etc.
Learn about: Cruise Ship Captain Job Description
Pros and cons
Pros (Benefits)
Following are the key benefits of having a cruise ship steward job:
Opportunity to travel the world and experience different cultures.
Chance to interact with an international clientele.
Competitive pay, often including meals and/or on board accommodation.
Opportunity for career advancement within the hospitality industry.
Cons
Here are the cons of becoming a cruise ship steward that you must be aware of:
Long working hours and limited time off.
Stressful and physically demanding work conditions.
Responsibility for the care of passengers' cabins and other areas, including cleaning tasks.
Limited social life due to long periods away from home.
Have you checked: Cruise Ship Housekeeper Job Description
How to become?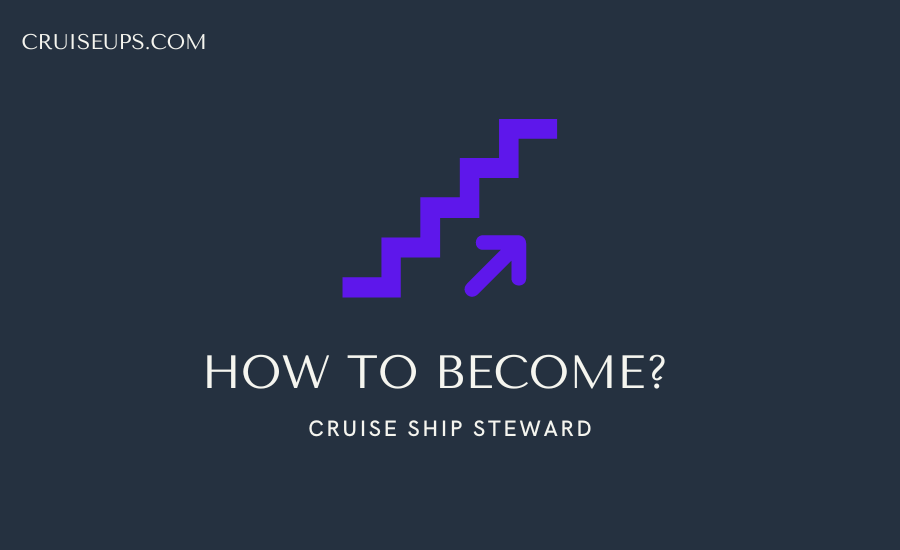 For those who want to become a cruise ship steward or stewardess, there are several steps that must be taken to ensure success.
Acquire relevant qualifications and skills: First, you need to have the right qualifications and skills for the job, such as excellent customer service and communication skills. You should also have an understanding of hospitality practices and procedures.
2. Contact a cruise line or a hiring agency: Secondly, you will need to contact a cruise line and find out about their hiring process. Different cruise lines have different requirements for cabin stewards, so it is important to read up on the specific criteria that each line has.
3. Apply: Thirdly, you will need to apply directly with an established cruise line. You will be asked to provide documents such as a resume, references and other materials that can demonstrate your experience and qualifications. The hiring process will also involve a thorough background check to ensure you are suitable for the position.
4. Be prepared: Fourthly, once hired, cabin stewards must be prepared to work long hours and in tight spaces.
5. Get know-how of safety regulations: Finally, employees must adhere to safety regulations at all times while on board the ship. This includes following proper safety protocols when handling hazardous materials, as well as ensuring that all cabins are kept in an orderly and clean state.
You may like to see: Cruise Ship Director Job Description
How to apply?
To apply for a position as a cruise ship cabin steward, you will need to submit a resume and cover letter that outlines your relevant experience.
You should include any certifications or credentials that may be required by the cruise line in order to highlight your qualifications.
Additionally, you should detail any areas of expertise or accomplishments that would make you an ideal candidate for the position.
After submitting your application documents, you may be asked to attend an interview or complete a skills assessment test.
During the interview, you should be prepared to answer questions about customer service and any other relevant topics related to the job.
Afterward, if selected, you will typically need to pass a background check before being hired as a cabin steward.
When applying for a position as a cabin steward, it's important to have knowledge of customer service principles and relevant industry regulations.
It's also beneficial to have completed any certifications or credentials required by the cruise line in order to highlight your qualifications. These might include courses on hygiene and sanitation, food safety, and customer service.
During an interview for a cabin steward job, you should be prepared to discuss your experience and qualifications including any certifications you may have earned. The interviewer may also ask about how well you work with customers or other staff members, as these skills are essential for success in the role.
Be sure to provide concrete examples of past experiences that demonstrate your customer service skills, and explain how you would handle a difficult situation.
Finally, make sure to highlight any safety-related qualifications or certifications you have earned as these are highly valued by cruise lines.
Cruise stewards must possess strong organizational, communication, and customer service skills in order to excel in their role.
See more: Cruise Ship Entertainer
Where to find Cruise Ship Cabin Steward Jobs?
Finding a ship steward job can be challenging. Many cruise lines post jobs on their websites or online job boards, and there are also specialized employment agencies dedicated to helping individuals find shore-side positions within the maritime industry.
Connect with contacts at cruise lines or ask former colleagues for referrals. You should also consider attending career fairs and job expos that specialize in the maritime industry.
Here are country-wise job portals to find a cruise ship steward opening in your country:
USA
UK
https://nationalcareers.service.gov.uk/job-profiles/cruise-ship-steward
https://uk.jooble.org/jobs-cruise-ship-steward
https://uk.indeed.com/q-cruise-ship-jobs.html
Canada
https://ca.indeed.com/q-cruise-ship,-cabin-steward-jobs.html
https://www.cruiseshipjob.com/mvc/j2368/St.-Lawrence-Cruise-Lines-jobs-Stewardess-Positions-River-Cruise-Ship-Canada
https://ca.linkedin.com/jobs/cruise-ship-jobs
Brazil
https://cruise.jobs/recruitment-agents/brazil/
https://crew-center.com/cruise-companies-offer-800-jobs-brazilians
https://cruisejobdirectory.com/2015/01/infinity-brazil/
Australia
https://au.jooble.org/jobs-cruise-ship-steward
https://www.seek.com.au/cruise-ship-jobs
https://au.indeed.com/cruise-ship-jobs
Singapore
https://sg.indeed.com/q-cruise-ship-jobs.html
https://sg.jooble.org/jobs-cruise/Singapore
https://sg.linkedin.com/jobs/view/pcl-stateroom-steward-cs-at-princess-cruise-line-ltd-3489199671
Indonesia
https://cruise.jobs/recruitment-agents/indonesia/
https://ebu.co.id/job/cruise/
https://crews.samudera.id/
Japan
https://www.allcruisejobs.com/search/japanese/
https://cruisejobdirectory.com/2014/01/cruise-line-hiring-partners-in-japan/
UAE
https://www.catererglobal.com/jobs/cruise-ship-food-and-beverage-steward/in-middle-east
https://ae.indeed.com/Cruise-jobs-in-Dubai
https://www.odyssey.ae/
South Africa
https://za.indeed.com/q-cruise-jobs.html
https://www.cruiseshipjob.com/mvc/j868/Gourmet-Recruitment-International-jobs-Cabin-Stewardess-from-South-Africa
https://cruise.jobs/recruitment-agents/south-africa/
Hong Kong
https://hk.linkedin.com/jobs/view/pcl-stateroom-steward-cs-at-princess-cruise-line-ltd-3489196980
https://hk.jobsdb.com/hk/search-jobs/cruise/1
https://cruise.jobs/recruitment-agents/hong-kong/
Learn more: Cruise Ship Photographer
Frequently asked questions
What is the salary of stateroom steward?
While salaries of a stateroom steward can vary based on factors like experience, location, and the cruise line you work for, as per Salary.com, the salary of stateroom stewards is between $33,630 to $44,352 per year in the United States.
However, it's worth noting that many cruise lines include tips as part of the steward's salary, which can significantly boost their earnings.
Additionally, many individuals who work in this role enjoy other benefits like free room and board, the opportunity to travel to exotic destinations, and the chance to meet new people from around the world.
What does a cruise attendant do?
A cruise attendant has an incredibly important role in ensuring that passengers have a fantastic and enjoyable experience whilst sailing the high seas. They are responsible for managing and organizing the day-to-day activities and events on the ship, ensuring that everything runs smoothly, and all passengers have their needs met.
From organizing excursions to ensuring that cabins are kept in pristine condition, cruise attendants wear many hats. They must also keep a close eye on safety and emergency procedures, ensuring that passengers are informed and prepared should anything happen whilst at sea. To be a great cruise attendant, you must possess excellent communication skills, be highly organized, and most importantly, have a passion for making people happy.
What is the highest paid steward?
Highest salary that a Steward can earn is $45,000 to $48,000 per year (~$4,000 per month) in the US.
The truth is that the highest paid steward job depends on a variety of factors, including experience, location, and the specific company you work for.
In general, though, high-level positions such as Chief Stewards or Head Stewards tend to come with higher salaries than entry-level positions.
Additionally, working for luxury cruise lines, private yachts, or even private households can all lead to higher pay. Ultimately, becoming the highest paid steward requires a combination of hard work, dedication, and strategic career planning.